First Steps
Had someone told us back in 2010 that World of Tanks would attract hundreds of eSports teams to compete for $2,500,000 in prize money and that millions of viewers would watch the action live on Twitch…we would have said that they were being overly optimistic. Luckily, this is exactly what took place during the first year of the Wargaming.net League.
The World of Tanks eSports community has gone from a tight group of enthusiasts in 2010 to the highly-esteemed Wargaming.net League in just less than three years. Building a global organization off of players' desire to compete has been an amazing, whirlwind of a ride.
Looking back at our humble beginnings, we started organizing tournaments long before World of Tanks went live. The very first event called "Steel Storm" was held during Closed Beta testing and attracted 16 amateur teams from CIS. At that time there was no eSports Department at Wargaming, so a team of less than 100 people joined efforts to organize the event. Game Designers prepared the rule set for the tournament, and Developers, Community Managers, and anyone else who wanted to contribute helped with putting together all of the other pieces.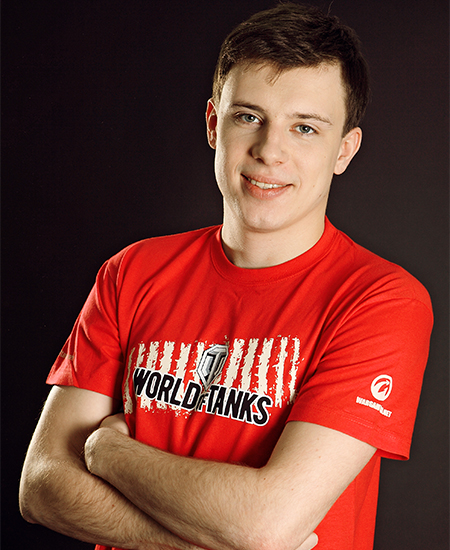 Although the event was driven by sheer enthusiasm, and we hardly possessed the skills required for such a tournament, it went really well. The number of tankers willing to participate in matches kept growing, and it fueled our desire to step up and turn this into a regular thing.
We started with online tournaments. The team worked nonstop, creating event schedules, seeding teams, setting up brackets, and managing matches. It was a first for all of the teams, but our lack of expertise didn't discourage us from moving forward. In fact, each challenge we faced pushed us even further and the continued support from our player community reminded us of the importance of holding such events.
Scaling Up
The first international World of Tanks championship, Ural Steel 2011, was a great challenge. We held many larger scale tournaments in the years following, but this one stands out above all the rest because it was the first of its kind. Our eSports following was still very small back then with just 240 players coming to Moscow for the offline finals. Ural Steel 2011 was truly a bonding experience. We met each of our players upon arrival and managed all logistics for the duration of their visit including weak internet connections, sleepless nights, and everything else in between. One of our players even invited us to his wedding that was taking place during the tournament and we all celebrated together. Another chance happening was meeting Stanislav Kargin, who now leads the World of Tanks Game Balance team.
The international tournament allowed us to playtest the rule set and battle format we had and improve upon it, which ultimately led to the introduction of the 7/7 format. Other groups insisted we stick to teams of ten (10/10), but we took the risk, and in the end it paid off.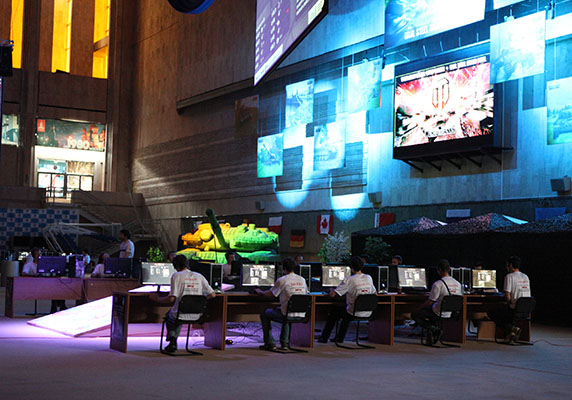 Going Global
Our community of competitive players continued to grow, and we began organizing World of Tanks tournaments at larger gaming expos where we established connections with many regional eSports organizations including ESL, StarLadder, TechlabsCup and others. With the success of World of Tanks there came a greater need for eSports activities which opened up new opportunities for us. We encountered many who were skeptic of our ability to transition from regional to global events, and reach the level of eSports disciplines like Quake and League of Legends, but we proved them wrong when we began negotiations with World Cyber Games sponsor Samsung.
In 2012, we went to Kunshan, China to support the best regional tank squads that made it to the Olympics of eSports, World Cyber Games, where World of Tanks debuted as an official discipline that year.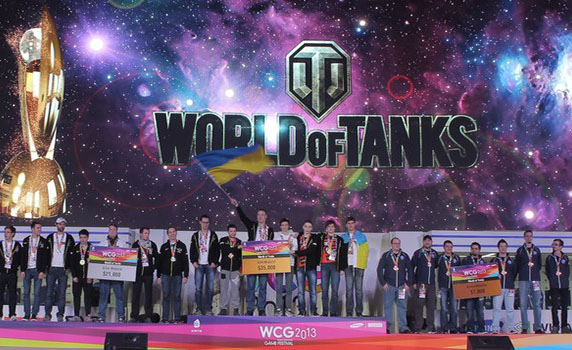 The growing number of events meant we needed more bandwidth. As a result, we hired new specialists to manage global activities, and formed a team of regional eSports Managers that ran local tournaments.
In the beginning of 2013, we made the decision to organize our very own Wargaming.net League. The announcement was preceded by many months of preparation where we ran internal testing for different formats and rule sets, and created game mechanics specifically for the League. It was a whole new level of detail for us and a lot of hard work, but in the end it paid off. In its first year, the Wargaming.net League attracted over 200,000 pro gamers and held more than 1,000 tournaments with packed venues of spectators cheering on the regional finals.
Even though we have a proven track record of successful tournament mechanics and thousands of teams participating, the work still must go on. We organize live streams, launch eSports-focused video programs, and constantly work to improve the game's competitive component. Along with bettering the spectator experience and providing players the tools to improve their skills and go pro, we are also working on a brand new tournament setup for the Wargaming.net League. This new format will introduce new ratings system, tournament setups, and new eSports maps.
The last two years have been a major leap for the eSports industry and for us. Video games have become more advanced and more exciting for spectators. Game technology has reached a whole new level, providing new opportunities for live streaming and online tournaments. What had started as a player-encouraged initiative in 2010 turned into a global league in 2013. Three years ago, it would have been difficult to make the league sustainable at this scale, but now that we have both the expertise and bandwidth necessary we are able to successfully manage an organization like the Wargaming.net League.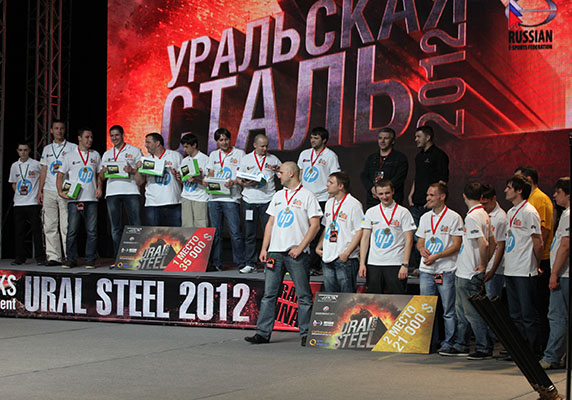 Engaging Players and Spectators
There's still a lot of progress to be made in ensuring that we provide a truly engaging experience to both professionals and spectators.
According to surveys we have taken with our players, the number of tankers that want to go pro is greater than the number of gamers competing within the Wargaming.net League. Often times, the fear of failure or defeat prevents many aspiring players from joining the ranks, and beginners might give up early on if the game seems too complex or the competition seems too challenging. We encourage these players through live streams and video guides from professional gamers that allow them to study useful tactics from seasoned gamers, overcome their fear, and refine their skills to a more advanced level.
Another segment of tankers that we want to attract to the Wargaming.net League are users that play often and play well, but have no interest in going professional. Game Designers add a competitive angle for those players through fun battle modes like Tank Rally and World Football Championship that encourages tankers to team up and compete in special missions.
Along with recruiting new players, we also seek to increase the number of spectators. Our goal is to make World of Tanks tournaments exciting enough to watch even if your favorite team isn't playing. For us, every tournament is a production, and we ensure that it has what every truly thrilling piece of entertainment has: a great host that can entertain the audience during "low points", branded giveaways and merchandise, and contests for viewers.
The most topical issue for us now is the dynamics of matches. With our current structure, many encounters in the 7/42 format boil down to camping, and ultimately end in a draw with very little action for spectators. At the beginning of a game, both teams rush to good positions and then wait, each player sheltering behind cover. Because the stakes are so high, a single shell could take one player out of the game and leave their teammates at a disadvantage that could result in losing their shot at the prize money. We are currently working on a new tournament format that will encourage more active and exciting gameplay.
From Couch to Stadium
The Wargaming.net League tournaments continue to grow in size, quality, and viewership, which bring us closer to the level of popularity enjoyed by top eSports titles worldwide. This together with the support from our player community encourages us to further perfect our league.
What distinguish the Wargaming.net League from other organizations are our year-round tournaments. Pros partner with multigaming clans and receive stable salaries, and we help in boosting their popularity and earnings through outside sponsorships. Both victory and participation pay off.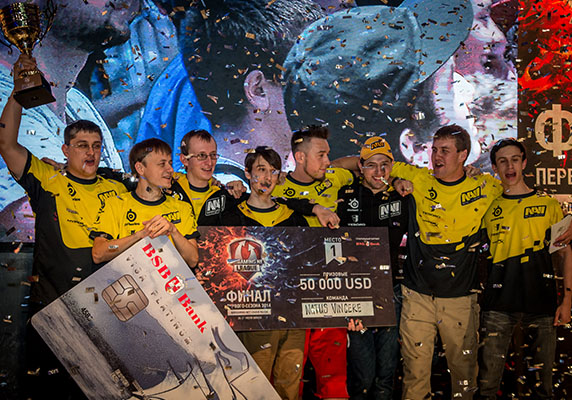 In order to succeed, every eSports league should work to meet these two requirements: attract a solid number of highly competitive gamers and provide quality entertainment that is interesting to a large audience. At Wargaming, we strive to meet both, which proves how truly passionate we are about eSports and the Wargaming.net League.