Paris, the city of lights inspiring creative minds for centuries is also home to Wargaming's largest Western European office. The city continues to inspire artists and has become a beacon for creative talent in the gaming industry.
A Belarusian born company now based in Cyprus, Wargaming has surprised the world several times first risking everything for a new Free to Play concept, then the success of their flagship title World of Tanks followed by global expansion. Wargaming has come a long way from being a small company to industry giant but somehow as maintained its family feeling in which many cultures mix and blend creating a beautiful mix that keeps surprising the industry and its fans over and over again. Senior Illustrator, George Skodras, and Head of the Design and Media Lab, Ali Dogramaci, find themselves in good company, having been attracted by the city, but made a home at Wargaming.
George came from Greece, where he studied design and wanting to expand his knowledge, ended up leaving home to continue his studies in Cardiff. Ali is from Turkey and he moved to LA to pursue his Masters in Entertainment Studies. Then he spent several years working with different agencies (Specifically Petrol Advertising and The Ant Farm) handling clients such as PlayStation, Microsoft, Nintendo and Warner Bros.
How long have you been with the company and can you give us a brief description about your role at Wargaming?
Ali: I've been with Wargaming for 6 years and am head of the Design & Media Lab Department. We work on all the titles published by Wargaming for the European territories, as well as give support to the Branding and Communication efforts of the company.
George: I have been with the company for 3 years. I'm the Senior Illustrator and I'm working too on all the titles Wargaming produces.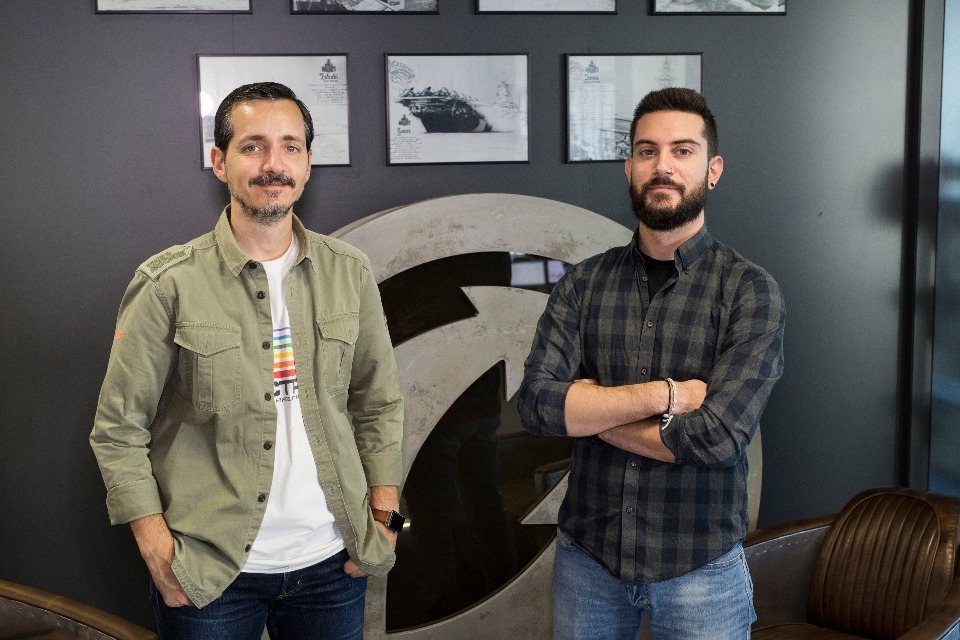 What would you say you enjoy the most about your daily work at Wargaming?
George: I enjoy the freedom of creativity we're allowed. Its not about being assigned a project, we're allowed to explore different mediums which is important to delivering excellent results.
Ali: We're all passionate about our work. We work as a team, its about listening to the needs of what the other groups are asking of us as well as having ongoing communication with them through the process. We work together from start to finish.
You're both part of the Design & Media Lab department where there are more than 6 different nationalities, and each have teams to manage. Do you find this difficult?
George: My team is made up of 3 people. I'm the lead on the team and my colleagues have different backgrounds which is excellent because it offers us 2 totally different artistic perspectives and gives us more options to explore and utilize the best avenues depending on the product we're working on. The difference of cultures gives us an added value. It enriches us and offers variety which helps us come up with proposals that are unique.
Ali: There are 9 different nationalities on my team, but it's a good atmosphere. We have lots of open discussions as we have a variety of different artists, but there are no egos. We all work together for the greater good. This is particularly interesting because several of them have worked as freelancers and are used to a different dynamic. Here we work together and are proud to be part of a whole. We don't promote our individual talents as we've all contributed to the project and had a part in the end result. Culture plays second to the work at hand.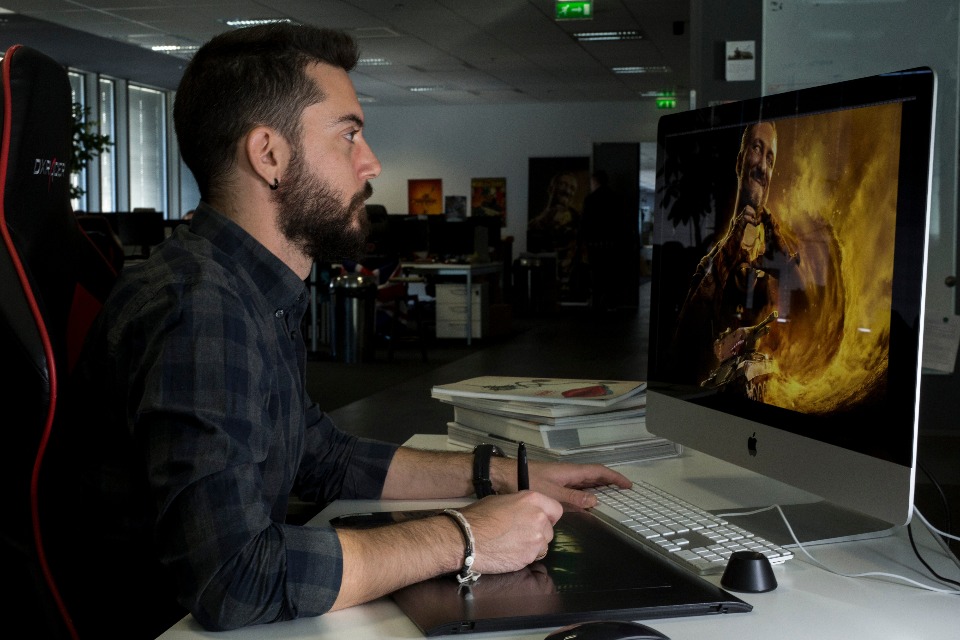 Both of you are from different countries. What attracted you to Paris? How does living here differ from your expectations?
Ali: I left LA for a more balanced and stable family life. As for Paris, you have to be realistic and not a romantic about the city. It probably goes for every city but I find the fact that you have to manage your expectations especially important when it comes to Paris. All in all, Paris is a big city with a human first state of mind that provides good security and balance for people's families.
George: Coming from Greece, when I finished my studies in the UK I began to look at job prospects and cities where my girlfriend and I wanted to live. We looked at UK, Spain and Paris. Paris had the right mix: the job offer was good, the weather is a plus, it's easy to travel home, and we love the French food and the French wine. Three years later and a baby, and we're happy with our choice.
What recommendations would you give to people looking to come to Paris?
George: Do your research. We did a lot before coming, but housing in Paris is not easy. It involves a lot of paperwork, and as foreigners we didn't have all the credentials that were requested. Fortunately, Wargaming has a relocation department that helped us out with all the paperwork, provided support to find a home, and this is very useful support tool.
Ali: I joined before Wargaming Paris had a relocation department, I can't say much about that but the feedback I get from team members and colleagues is good. Living here, I would say, look into what is important for you: Paris is big, but its divided into neighborhoods. You should consider what's important for you: Shopping, Healthcare, Culture, green spaces, etc.
Wargaming Paris has over 20 different nationalities in the office. What is the atmosphere like?
Ali: We bring out the best in each other. Wargaming has done a good job of hiring good people and show the best of what each culture has to offer.
People who come to Paris and work for other companies often feel like they "are" foreigners working in a French office. We don't have that here. It's a real multicultural environment and a well-balanced melting pot.
George: The office is fun. Everyone's background is a bit different and people are open to sharing. It gives you a better connection with other cultures. We all learn from each other and even get rid of stereotypes.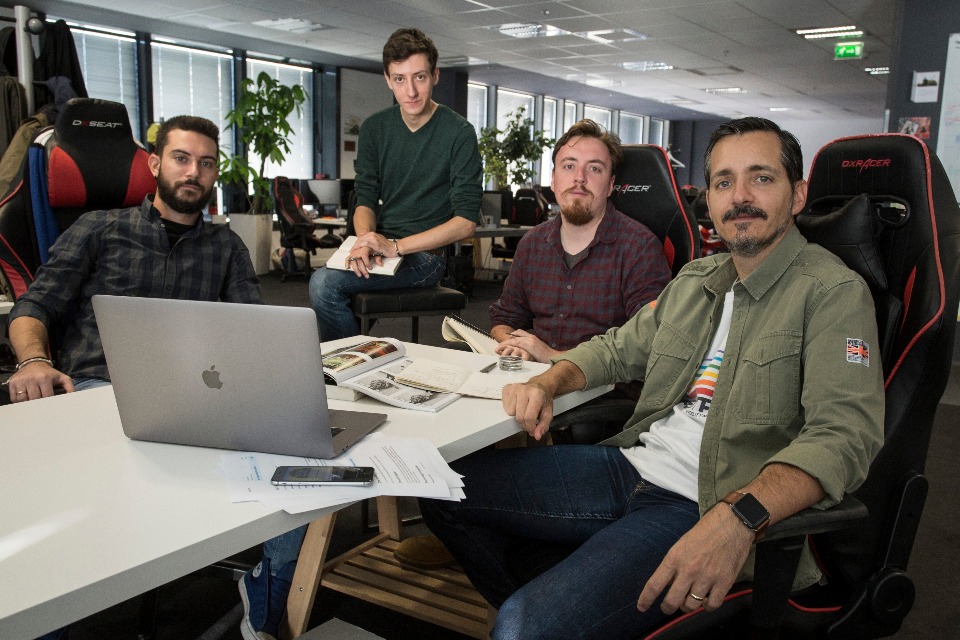 What's your proudest achievement at Wargaming?
Ali: Being able to provide diversity and challenge my team but being capable of sustaining them. We don't have a lot of turnover, which means that people are happy.
We're not good at promoting ourselves, which is a continuous challenge. What makes it worth it is having fun while getting the job done, and then getting positive feedback from external people that recognize the work we've done and being impressed. It's exciting and motivating.
George: World of Tanks Mercenaries comes to mind. The project was very fast paced, so when we get other projects that are fast paced we are ready for the challenge and can run smoothly.
What would you say is your best memory from Paris or Wargaming in general?
George: I tried just about every possible cheese I could the first week living here. I think I've filled my quota for life!
Ali: I have a few: I remember the first Gamescom party I attended in 2012 and being in a complete shock seeing LMFAO on stage. This is when they hit it big and impressive and unexpected. Another highlight is definitely watching the Offspring live at our 15th anniversary party in Minsk.