Explore the joys of relocating to a sunny and relaxing Mediterranean Island.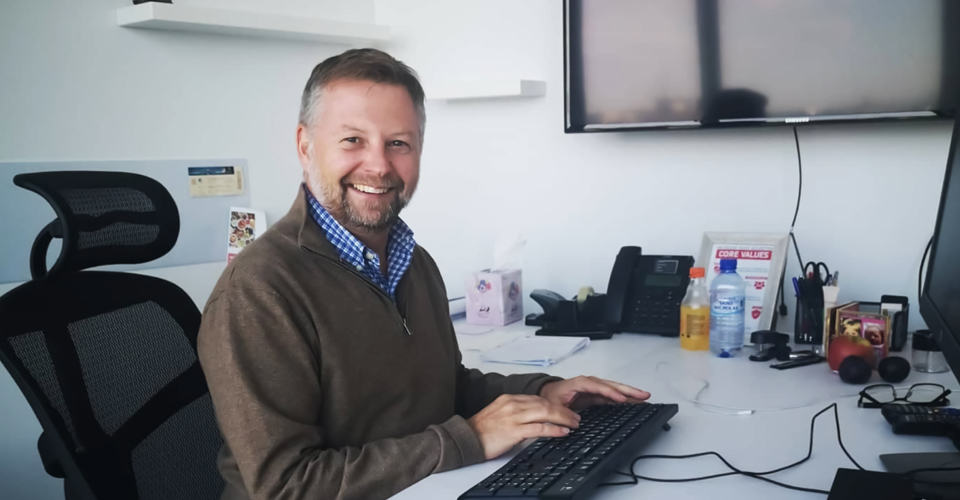 What do you do at Wargaming?
My role is Head of Global Talent Acquisition. I manage a team of recruiters and recruiting leaders around the world. In short, I build a hiring strategy to deliver talent, externally and internally, for all products and functions at Wargaming. We source around 1,000 – 1,250 hires per year.
How did you end up as the Head of Global Talent Acquisition at Wargaming?
I actually started my career in media sales. I had a chance conversation with a friend during the holidays while we were out for drinks. We were catching up, and I shared my experience in selling media. He said that I'd be a good fit for recruiting. In the spring of that year, I spoke to the owner of an agency just outside of central London, and it was an electric atmosphere. There was a really good buzz about the place. Everyone seemed to be having a good time- good energy all around, so I decided to take the plunge.
I worked in agency recruiting for a few years, including launching my own agency with a partner in London, focusing on growing companies who just got seed funding and who wanted to grow quickly. It was good fun and we got to work on some interesting projects.
I enjoyed the agency side and running my own business, but I decided in my early 30s, having done the agency side for about 8 years, to go in-house. I wanted to cut my teeth in a bigger environment and develop new skills. So, I sold my stake in the business and took a gap year and traveled around the world. When I got back, I worked through a vendor at Dell and EMI for short term assignments, and then, Yahoo as their lead technical recruiter. A year later, I got approached by Microsoft for a manager role in EMEA for Microsoft's consumer and online business, and that was my entry into Microsoft. I had a thoroughly good time there, three different roles- including living and working in Istanbul leading staffing in the Middle East and Africa region.
After a while, it was time to move back to London, and I ended up working at Expedia. During my tenure, I had two global roles and was enjoying being back in London. Then, Wargaming came calling out of the blue. It wasn't what I was expecting.
I haven't recruited for video games before, so it was a new experience. After several Skype calls, I went to visit the Cyprus and Minsk offices. I liked what I saw, particularly the energy from the people I spoke with. I thought it was a really exciting opportunity to lead talent acquisition globally for a company like Wargaming. I'd led divisions in other companies, but not the whole piece. So, I decided to give it a go, and here I am, nearly three years later.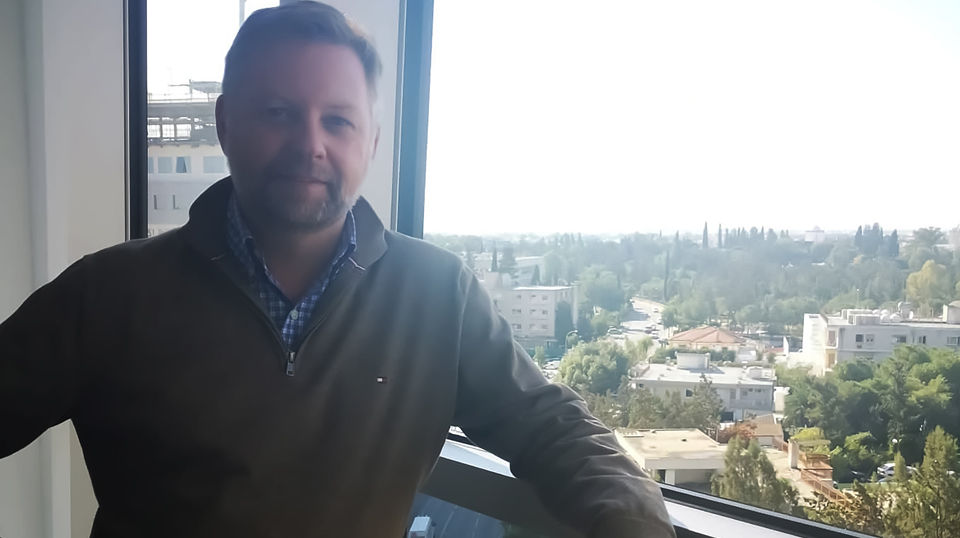 What was the move from the UK to Cyprus like?
Having previously had experience working overseas, my family and I were keen to try out a different country. It was important for us to get the kids settled in school. That was one of our big priorities. Our next concern was finding a home we were comfortable with. We found a nice house close to the office with close access to the airport and the beach, which if you didn't know much about Cyprus, there's a lot of wonderful beaches.
It's been a good move. My kids are settled, my wife is teaching English as a foreign language, and we're pleased with the decision so far.
How do you keep close relationships with family and friends after your move to Cyprus?
So, we actually end up going back to the UK sometime during Christmas or New Year- or both. That's an important time for us to connect with family back in the UK. Also, my family goes back to London for a few weeks during the summer months after the schools finish up here. In the last two years, I've gone back for two weeks in the summer to join them for that period, and I've been able to work remotely in London or from our new Wargaming UK studio.
Since Wargaming is really flexible about allowing me to work in the UK for a couple of weeks in the summer, it has enabled me to visit family and friends back home without using up annual leave for family travel and such. Because of this, we can still go on holiday in other places- since we lived in the region, we've really enjoyed exploring the Greek islands, and have had the chance to visit Athens, Tel Aviv and Beirut. Vibrant, interesting cities.
Of course, we also have family visiting us in Cyprus regularly. Both of our parents and siblings come out and visit us. We've hosted my wife's family last Easter and my family has come to Nicosia at different times throughout last year. Between going back and people coming out to visit, we get to see our family quite often.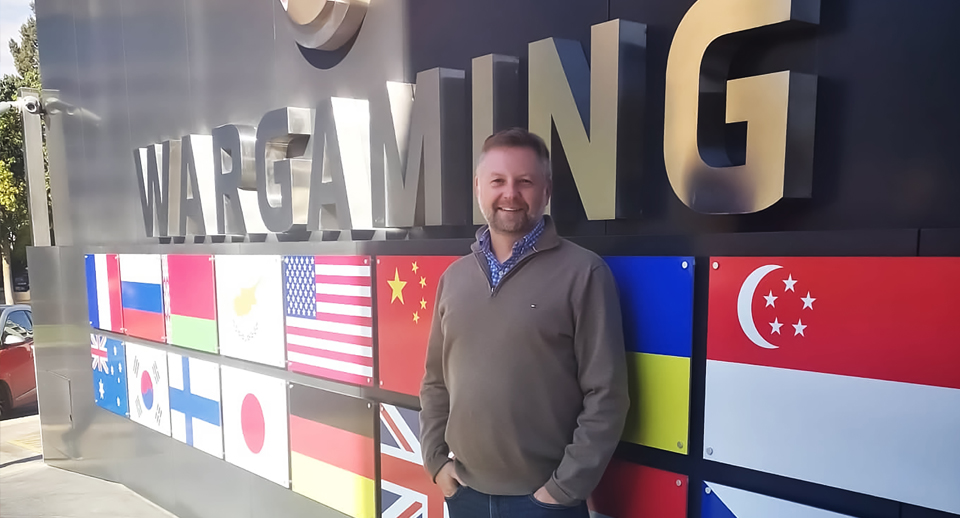 What has been your favorite part about Cyprus so far?
It's easier living here. For example, getting to and from work. There's still traffic in Nicosia, but comparing it to the tubes [trains] in London, which get particularly hot in the summer, it's much more appealing. I certainly enjoy getting around the city. It's much quicker and easier.
We live in a Mediterranean island. The sunshine and climate are brilliant. There is a saying in Cyprus known as "Siga Siga" [Greek for slowly, slowly. A phrase to suggest take it easy because things will eventually be accomplished] so people certainly have a more relaxed outlook outside of the company. Wargaming's an international company, and it runs at a frantic pace, but at least outside of the company, the pace of life is slower than what I've been used to in London.
So yeah, I think the lifestyle pace, the weather, and being able to easily move around the city and the island in general are some of the things that I particularly enjoy about Cyprus.
What do you do in your spare time?
I often go to the beach or swim at home. We're lucky enough to have a swimming pool, and the kids have become great swimmers ever since our move. We're in the water between April and November.
In the winter months, we like to be outdoors in the mountains and go on hikes. We sometimes have been skiing as well. In Cyprus, you can be skiing in the morning, and end up swimming in the sea by the afternoon. So not many places can afford that opportunity [laughter].
I also enjoy cooking and have been learning how to cook Mediterranean food. I've been trying to master that, and there's certainly lots of feta cheese and olives in the dishes I make during the weekends. We also like to entertain family and friends often.
Since Wargaming Cyprus is the headquarters for all Wargaming, what makes that office special?
Well both from my standpoint and what I hear from others, it is a truly international group of people who work here. We have people from all over the place- Europe, including a big number from the CIS region, the Americas, and Asia. The office is also a really good quality space in which to work. It's a combination of open plan and meeting rooms, catering to all needs. It has a very well-equipped canteen, a great gym facility, and ample car parking, so as a place to work, it's fantastic. Not to mention, the view of Cyprus from the office is breathtaking.
Lastly, a good percentage of our leadership team is here. Many global function and sub-function heads work out of Cyprus, so you're able to interact and work closely work with many of the decision-makers at Wargaming.