The gaming industry is one of the world's most rapidly growing markets. Young people strive to join big companies, small studios and indie teams who develop games. Having over 22 offices and a bunch of AAA titles in its arsenal, Wargaming attracts top-notch specialists from all over the globe.
To give us an insight into how Wargaming Prague QA team work, we sat down and had a chat with Maria Makieva, Junior Test Engineer, Katerina Tichy, Recruiter, Karel Koschin, Senior Test Engineer, and Anton Iljin, QA Manager, to hear it firsthand.
The Team
Maria Makieva: Wargaming Prague focuses on World of Tanks quality assurance. In fact, the QA team is the biggest department at the Prague office. There are almost 50 people on the team.
Professional levels start from Junior QA Engineers up to seniors. The team is nothing short of a melting pot. In all, we have 11 nationalities including Latvian, Estonian, Czech Republic, Russian, Ukrainian, Indonesian, British, Polish, Slovakian, Hungarian, and Belarussian—and we all communicate in English. A good command of English is one of the biggest factors (along with passion for games) for joining our team.
Anton Iljin: The team formed in April 2017. Since then we've grown a lot. Expansion peaked at the end of summer 2017. Today we have 50 QA specialists working on four different projects. The key focus is on testing PC titles. Still, we are starting to work with consoles as well. The office is not responsible for creating games. This task lies with the Minsk, Kyiv, Brno, Seattle, Chicago, Sydney, and Cyprus studios. All these cities are development hubs, while the Prague office provides all-round QA support within Wargaming.
We're not focused on one particular game. Instead, we strive to establish a single QA center that harbors complete product expertise. The team does not live on just one project. It provides comprehensive quality assurance to any Wargaming project at all development stages.
Additionally, we perform QA automation and manage the QA of third-party projects developed by Wargaming partners.
The Opportunities
Maria: We have a lot to offer to professionals at all levels, whether you're just starting out, or have been in the biz for years. More than half of the team are juniors. Although we don't have testing as a specific course within the office, we teach them everything they need to know. We provide the hands-on experience necessary to hone their skills. They learn their trade on the job. There's something new to learn every day. We solve graphic design tasks, discuss game mechanics, immersive play experiences, and more.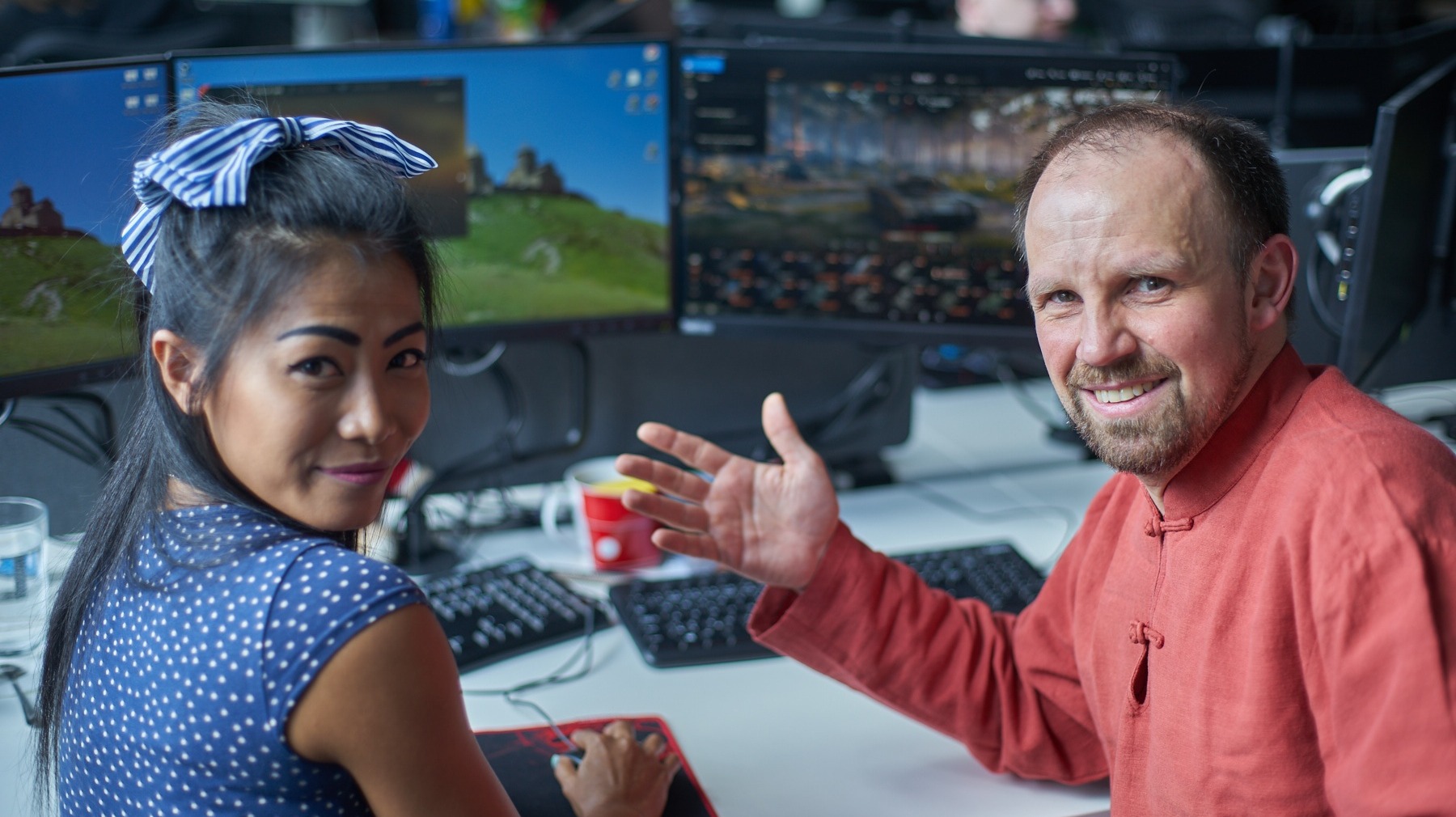 We are a diverse bunch. We look at each task from different angles, from different cultural perspectives. Every one of us brings something new to a game's QA. We have daily stand-ups, where we discuss news and tasks. The team has a nice tradition: every day, for about half an hour, we play one of Wargaming's titles to get a better understanding of our products.
It goes without saying that we have foreign language courses in the office.
The Atmosphere
Karel Koschin: We work by a great ethos—"Cheerful people are more effective". We are not strictly focused on testing. We're not a factory where people come in the morning and do the same work in their production line eight hours a day.
We spend a lot of time socializing too: play board games, have chess tournaments, console parties, assemble jigsaw puzzles. Team building is always fun. We go to pubs and have a lot of side activities driven by a common goal: enhance team spirit. We also hold regular meetings where anyone can share their views and the team is ready to discuss them and find the best solutions.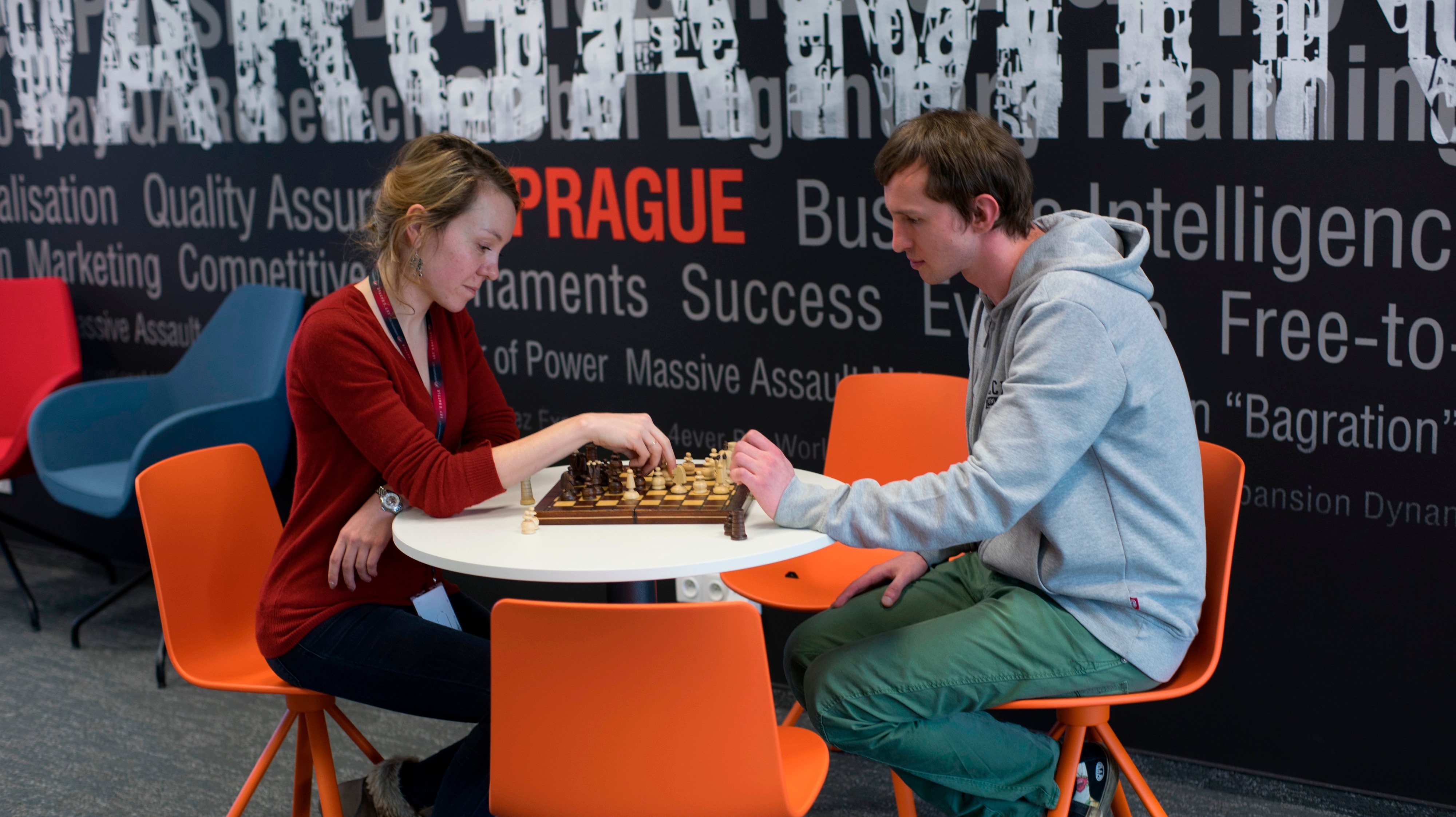 Maria: We have a very friendly atmosphere at our company. Sometimes, during lunch, we play games or have "Mortal Pizza" events with other teams, where you play Mortal Kombat and eat pizza. In our team, we have an easygoing atmosphere where we joke a lot. We sometimes stay after work and have a few games in World of Tanks or play other games.
The Hiring Process
Katerina: To become a part of our QA team, you don't need to have loads of experience. We just need to make sure that you have some technical education degree, interactive technology degree or perhaps an economics degree, and are passionate about computers or computer games. You need to have a basic understanding of technology and are able to work full time.
What we really look for is personality. The key thing we appreciate is good communication skills and a knowledge of English. Our perfect candidate speaks English at an intermediate or higher level. They need to be ready for work in a team environment, have a good attitude, be positive, and be a problem-solver, not a problem-maker. Be someone who comes up with solutions rather than problems. So, it's all about soft skills. That's what we look for.
If someone wants to become part of our QA team, they can check out the vacancies on one of our websites (i.e. wargaming.com). We don't require a cover letter, but we need a CV with a clear employment/experience history: where and when you've received your education, projects you've worked on, etc. And don't forget your contact details: phone numbers, emails, a short summary about yourself, explaining why you want to join the team. And a photo will be a plus—no snapchat filters.
As soon as we have shortlisted our CVs, we send candidates a couple of questions before organizing a final interview. The questions take around 20 minutes. They help us test your English skills and how you communicate in English. If everything is fine, we'll call you in for an interview.
Our personal interview is a little bit different from normal interviews. We have an assessment center. Here, you'll basically go through a few exercises to see how you work in a team environment, as well as have a one-on-one chat with a hiring manager. We know it can be nervous, but don't be afraid to show your personality. Additionally, you'll also meet the team. Usually, we have a group of 6 to 8 people. It takes about 4 hours and is split into three sections. Here is where the "speed dating" kicks off: you have two minutes to talk to a hiring manager or someone from the team. Don't worry—we're a cheap first date.
Candidates usually ask questions about work and the team. During this phase, the hiring manager won't ask any questions—it's the candidates' time. Once we're done with that, we check how you work in a group through a few group tasks. We're not going to lie—it's a challenge. If you get through our assault course, you'll have worked well in a team, how you communicate, and how you present your results.
After that, we have a one-on-one interview. You'll play videogames and meet different people from the team. You can have a chat, so they get to know your before your start working with them.
The hiring process takes up to three weeks.
So, rounding it all up: be enthusiastic, speak good English, have a technical background or a willingness to acquire one. If you have all that—welcome to Wargaming Prague!