In the last couple of months, the Wargaming Sydney team bolstered their efforts in supporting different charities and increase awareness for global issues that are important to the employees and Wargaming. The local team rallied employees and leadership to take part in multiple charity events and hopes to set an example for companies in Australia as well as other Wargaming offices globally.
Plant a Tree Initiative
In October of last year, Wargaming Sydney pledged to decrease the office's carbon emissions impact on the Earth. To commemorate this pledge, they worked with Carbon Neutral, an organization that helps groups and companies minimise their impact on the environment. The Sydney team regularly travels to share and gain knowledge in the video game industry. They worked with Carbon Neutral to record a figure in which they could offset the carbon emissions caused by all of Sydney's staff travel to GCAP 2019. In result, the team at Wargaming Sydney planted 150 trees to ease the burden on the environment. Moving forward, the Sydney team will continue to work with Carbon Neural to offset all staff travel emissions in the future.
Supporting each other is what makes us who we are. At Wargaming Sydney, we believe that it is in our hands to make this world a better place either via our environmental initiatives, supporting cancer research, or helping to fight bush fires. We work together, and we help together.
Lana Kersanava |HR Director, Wargaming Sydney
Movember
In November, some of the Wargaming staff, known as the "Mo'Bros", began the month with clean-shaven faces and grew progressively hairier as the month went on to create support for Movember. Movember is a global annual event to increase awareness for men's health issues, like testicular cancer, prostate cancer, and men's suicide. With donations from friends and family and matching donations from the Wargaming Sydney studio, the "Mo'Bros" were able to raise $3,000.00 for the event.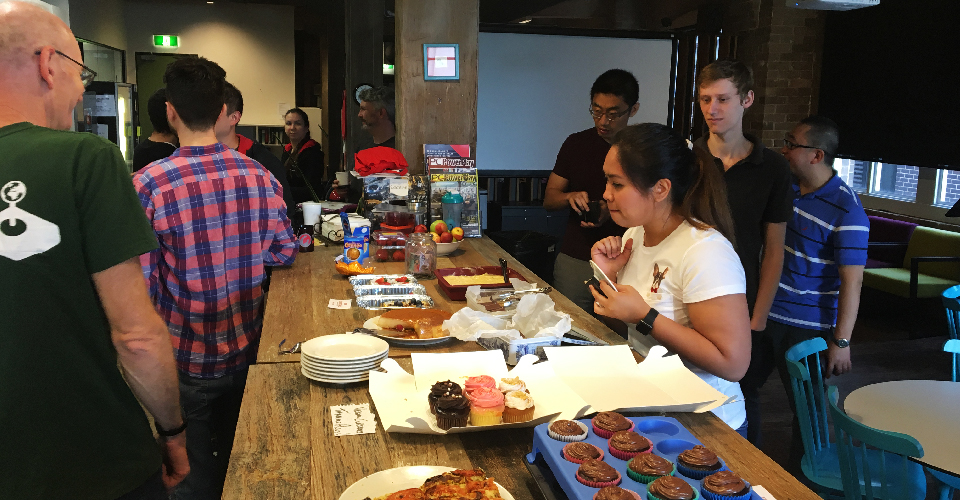 Rural Fire Service Bake Sale
During the Australian bushfires, Wargaming Sydney formed a new philanthropic society to support the efforts of the Rural Fire Service with a bake sale. In a span of three days, the team organised the event and staff volunteered to bake goods for the bake sale. With matching donations from the studio, Wargaming Sydney employees raised over $700.00 that went directly to the Rural Fire Service.
BlazeAid Auction
In support of BlazeAid, a volunteer-based organization that helps communities and families after natural disasters, the Sydney streaming team organised a charity auction stream. During the stream, the team auctioned exclusive giveaways, including mentorship time with Wargaming Sydney team members. During this event, Wargaming Sydney was able to raise over $17,000.00 in pure donations and $15,000.00 off auction items. In addition to this, Wargaming Global matched the donations bringing the total raised from the stream to close to $65,000.00 with a further $25K raised through the sale of special BlazeAid packs in World of Tanks.
In total, Wargaming Sydney raised over $90,000.00 locally for those in need and raised awareness for important causes such as carbon emissions, men's heath, and the Australian bushfires. The Sydney team takes pride in the efforts they take towards social responsibility and urges other organisations to help when they can.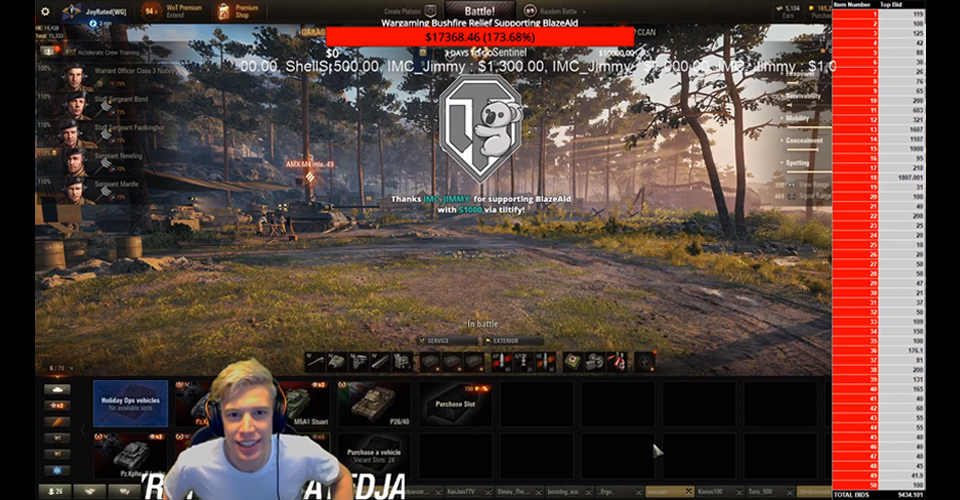 To support the organisations listed above, please follow the links below: