We sit down with industry veteran of 20+ years and General Manager of Wargaming Mobile Minsk to discuss the legacy of World of Tanks Blitz, the future of Wargaming Mobile and life in Minsk
Wargaming Mobile, the studio responsible for the development of Wargaming's premiere mobile title, World of Tanks Blitz, is a team of over 200 talented professionals and the man managing it all in Minsk is industry veteran, Thaine Lyman.
"I started at Activision, spending 17 years there in a variety of different roles. I was a lawyer when I first started, moving up to production. I spent about 10 years on Call of Duty; I was a Producer, Senior Producer, EP (Executive Producer), and later VP of Development on a bunch of the games, and finally 5 years on Destiny among others. I was there for a long time."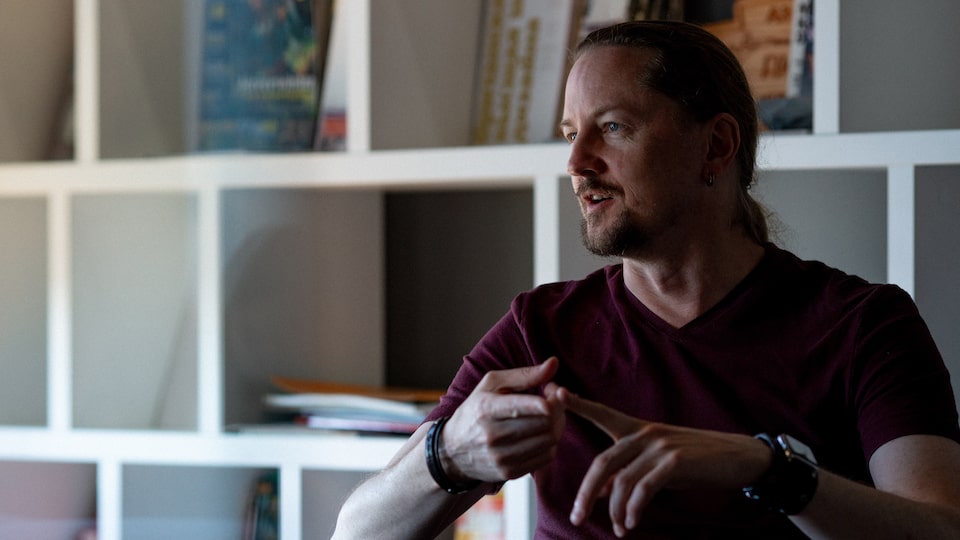 After spending his formative years at Activision, he left to join Wargaming and take up the role of Head of Global Publishing Production at Wargaming America. Even after a little over four years at Wargaming, Thaine has worked his magic in several offices in Wargaming's portfolio, starting on the Pacific coast and moving further and further east to his current locale, Minsk. Safe to say it's been one hell of a journey!
"In April of '15, I joined Wargaming. When I first started, I took what I thought was the big move from Los Angeles to San Francisco. And then about 6 months later, Victor made me the 'Godfather offer' to work on Tanks PC and to be, at that point, the Executive Producer. So, I then took what turned out to be the much bigger move from San Fran theoretically to Cyprus, although realistically I was spending about half my time in the Minsk office."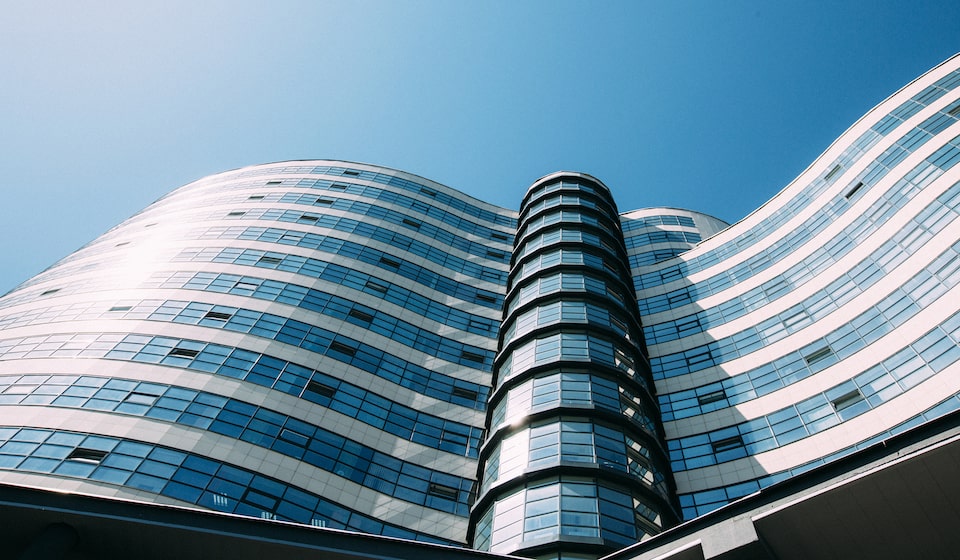 Wargaming Minsk office
Since moving to Minsk full-time a little over a year ago, Thaine has started to lead the Wargaming Mobile Minsk studio and Wargaming Mobile's jewel in the crown, World of Tanks Blitz. With the title about to celebrate its 5th birthday this year, many would think that its popularity is dwindling. However, Thaine disagrees.
"Obviously, World of Tanks Blitz is a very significant focus of this studio still and will be, I think, for a long time. Some people say: "It's 5 years old, it's not as popular as it once was." No! Absolutely not. Completely the reverse is happening. It's super successful, all our metrics are going up, up, up."
And he's right. Last year saw the addition of Mad Games, an event which further pushed the boundaries of tank warfare. Set in a post-apocalyptic wasteland, the mode was only intended to be a special event, but it became so popular that the mode was added to the rotation permanently. In fact, its popularity created the biggest challenge.
"In some ways the biggest challenge we had was that Mad Games was so popular and it started crushing our servers. The server team actually had to come up with a whole bunch of technology while Mad Games was active to be able to raise our peak concurrency limit to create some server failover conditions and things like that. Some of the guys were practically hand-matchmaking things so we were sure everyone was able to have fun with it.
You might have been expecting me to say that it was a challenge getting players accustomed to the new gameplay elements but, to be honest, adding the powers was a huge boon for the gameplay. I started to see some of my favorite moments, and they were a result of the community's creativeness. We didn't do a ton of work in the UI and things like that to promote teamplay, we didn't go and hit people over the head with a hammer about how you can now do this and this and this, or these are complimentary powers and these tanks work together. We just put it out there and the community started doing it.
The community absolutely fell in love with Mad Games and its flexibility with the rules. I saw guys coming up with ingenious tactics that used multiple abilities and tight teamwork to deal devastating damage to enemies and replenish their teammates' HP. Of course, Blitz is a team-based game, but these powers furthered the team tactics we regularly see."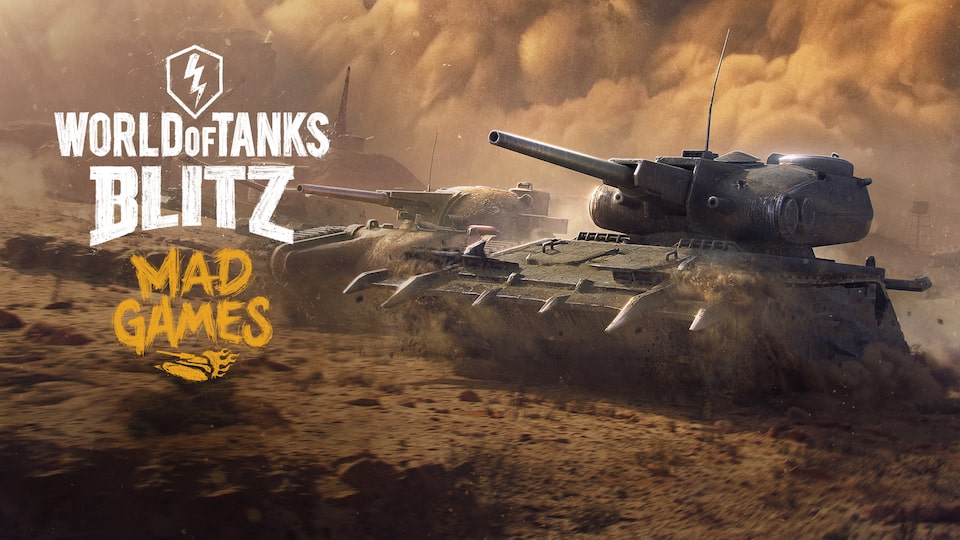 Mad Games key visual
Vampirism, healing tanks by shooting at them and things like that. Mad Games allowed for even more creative freedom than World of Tanks Blitz and the community enjoys, but it was this acceptance that gave the team a way of showing off their skills.
"It's that great moment where the development team is super happy, it's given them a chance to play with the rules and break boundaries that they can't even on the regular game. It really gave the team a boost creatively; they were able to do more things that they wanted to do, and our players' response was: "We like this, thank you!" Players came back. User score and quality scores got higher, etc. It's a great moment when the dev team does something that they feel great about and the community really appreciates it."
The ability to be more "fast and loose" with the rules of historical accuracy is just one thing that separates it from its PC brethren. Throughout its development, Thaine explains how World of Tanks Blitz has become a fully-fledged title thanks to its own gameplay nuances.
"With the release of Blitz, some concessions were made for the sake of technology like 7v7 rather than 15v15, but then some of it is just for the sake of fitting to a mobile playstyle. Matches are a lot faster, maps are a lot smaller, and the action happens much more quickly. You get in, you spot players and you start getting into combat much more quickly.
Of course, there's no artillery in the game so it makes for a more dynamic battlefield. The whole way that the game is balanced is different; it's designed to create an experience that fits into about half the time of a WoT PC battle if not less. You know, most of these battles can get decided within two minutes; two-three minutes is a fairly normal Blitz match. But beyond that, I think the place that Blitz has really found its legs has been the ability to stretch the boundaries of reality.
So, the experience is faster, it's more suited to mobile players, and it's a lot more "fast and loose" with reality, which is why Mad Games was such a natural add-on to the Blitz universe."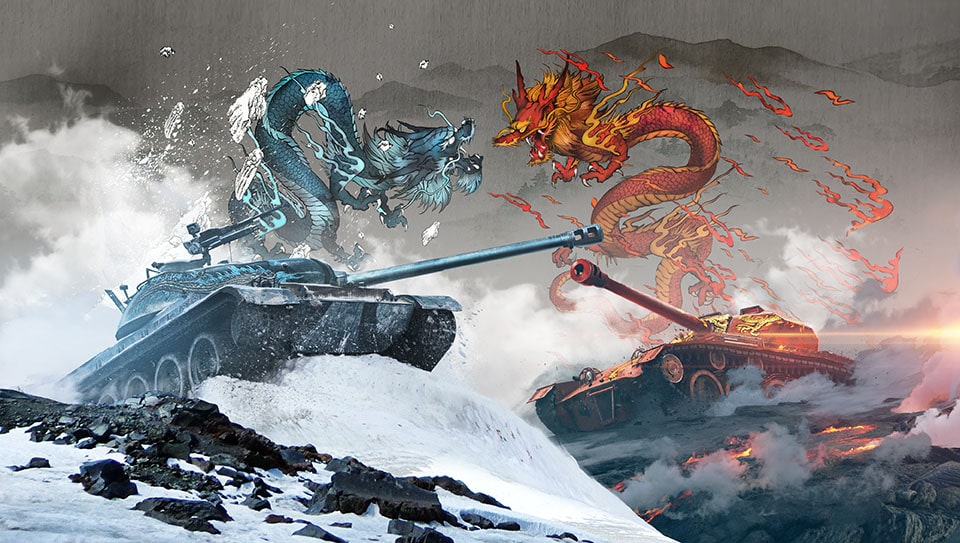 World of Tanks Blitz art
As we can see, World of Tanks Blitz continues to go from strength to strength, but that doesn't mean the Wargaming Mobile Minsk portfolio isn't expanding. When the topic of the future projects, Thaine is understandably tight-lipped.
"Blitz is going to keep going and we're super excited about it, but we've also got a couple of new things currently in development. We've got one thing that we are very much full steam ahead on right now and a second project that's in a prototyping phase, so we'll see where it goes.
I'm reasonably optimistic but it's very early on. I can't speak about the specifics of what those are yet, but I will say that the talent of the team being what it is, the type of game won't fall too far afield. It should be something that the team can do really, really well."
However, one thing he's extremely happy to divulge is one of the projects is bringing in an industry veteran to work as the Creative Director.
"One of the guys I worked with at Activision for like a decade, Carl Schnurr, has joined us as the Creative Director on one new project in particular. Carl ran the central design group at Activision, he was the Chief Creative Officer at Infinity Ward on one of the later-stage Call of Duty titles. He traces his lineage in shooters as far back as being the original producer and designer on the first [1998's] Tom Clancy's Rainbow Six game."
With new projects in the works, Wargaming Mobile is on the lookout for quality talent to help bolster their current team. After all, bringing in new blood can be a great help in the creative process.
"Right now, we are desperately looking for game designers, high-quality game designers and I mean hands-on guys. People who know Unity or Unreal, either one is fine as the skills can translate across, who are able to build things. Features designers, systems designers, balancing designers, level designers, UI and UX. All of those things.
[But] with all these different departments, we're always on the hunt for talented people in virtually every discipline, and the biggest thing we're looking for is people who are absolutely, absolutely never satisfied.
At this point, if you are the best in your entire team, city, region, whatever area, come on aboard! If you have honed your craft on other projects and are ready to join one of the most successful mobile teams anywhere, we will unlock your talents on games that millions of people care about. More players will see and care about what you work on here than at just about any other developer on the planet.
With the number of projects growing, we're going to start staffing up pretty soon, so keep an eye out! Come work for this company, come work for the team; we've got offices across Europe. And if you're feeling adventurous, come join me in Minsk!
But no matter the office, let's create amazing new mobile titles and take the industry by storm, even more than World of Tanks already has! Come be part of a team where you're surrounded by a bunch of people who feel the same way!"
And if you're looking for a new adventure and thinking about Minsk, Thaine, a Chicago native, has really become an advocate of relocating here. Forget your thoughts of a city in grayscale, Minsk is a big city without the big city problems.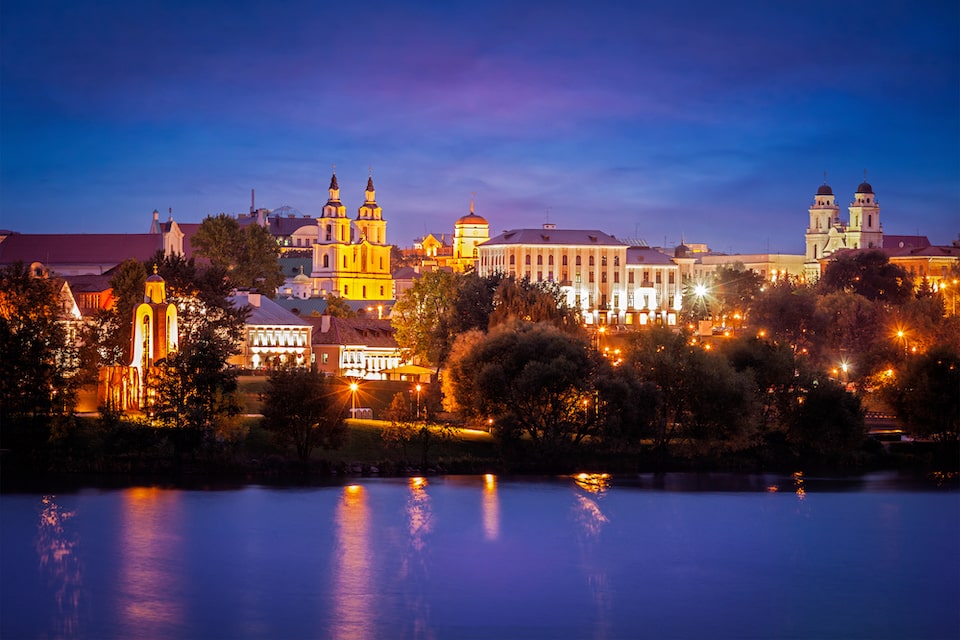 A summer night in Minsk
"For the folks coming from outside the CIS where their familiarity of Minsk is going to be lower, I would say, of course there's a level of adventurousness; you have to throw yourself out of your comfort zone. But man, it has been so good for me! My own personal development: I am so much better and so much more well-rounded than I was when I was sort of living in that L.A. bubble.
It's a fun city and for a guy who's grown up in Chicago and moved to Los Angeles and San Fran and god knows how many cities I've visited, it's absolutely the safest, cleanest and prettiest city I've ever been in. I love that about it, I love that I can go walking out along the riverside and there's all this green space and parks. It's beautiful. And it's big enough that there's enough to do, enough fun, enough variety, enough culture, enough cool bars, restaurants and museums, theatres, etc.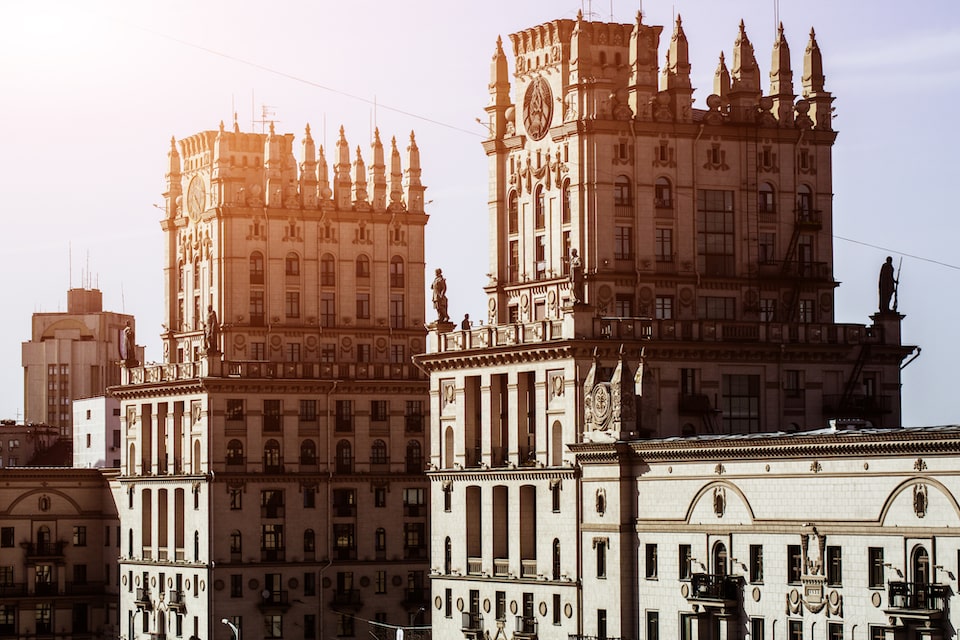 City Gates, Minsk
But it's not so big that you start to get all the bad "big city problems" of insane traffic and crime, an overwhelming population, feeling like you're one of a billion people. Like the streets of New York where you're walking and you feel like if you wanted to turn around and go in the other direction, you just couldn't."
And finally, for those who are looking at taking the leap of joining Wargaming Mobile Minsk, Thaine has one piece of advice that he ecstatically delivers…
"Dive in and reach out to me!"
---
You can find out more about all the positions currently open on the Wargaming Mobile careers page.